A Guide to Using a Pizza Oven Kit
There is no doubt about it, the common dome of a wood-fired pizza oven is becoming more and more popular in Australian life. This article will take you through the steps necessary to build a wood-fired pizza oven from pizza oven kits.
A DIY wood-fired pizza oven kit is all you need if you are looking for an easy and efficient way to set up your oven without too much difficulty. Diy kits have become available in recent years to help the average Aussie with the construction of their very own wood-fired ovens so that they can start cooking in no time. These are pre-cast and pre-cut bricks as well as accessories to build a great pizza oven. Here's a complete guide of how to use pizza oven kits: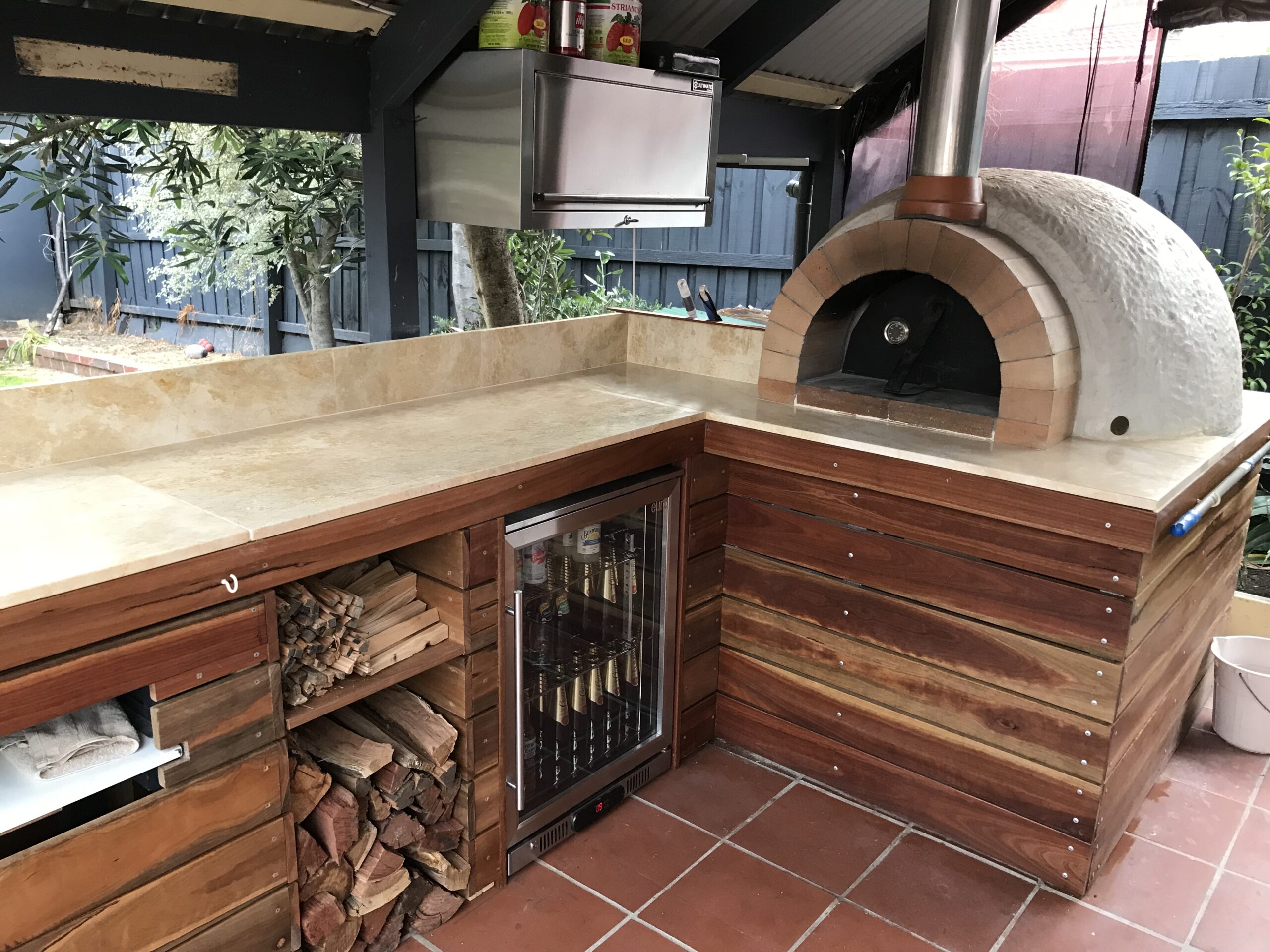 What to Consider When Building A Brick Oven
How Does A Brick Oven Work?
Brick ovens work on the basic principle of reflective and refractive heat. A fire is lit with the help of wood in the centre of the oven and subsequently moved to other places for heating up the base and inner walls. The heat from the live-fire travels through the dome and bounces onto your food. Finally, the heat stored on the cooking floor is transferred directly into food that is set on top of it. The heat from the wood is what brings the subtle charring on the crust, smoky flavour, and the perfect look to the pizzas.
A brick oven makes the cooking experience a delight, the high temperatures, flavours, design, and quick cook is all that makes a brick oven unlike any gas or electric oven.
How Hot Can Brick Ovens Get?
Brick ovens can reach very high temperatures from 500℃ to up to 1000℃ depending upon the types of insulation and materials used. But the catch here is that you won't really need such a high temperature on daily basis. To cook a Neapolitan pizza in just 90 seconds you just need 400℃ to 500℃ temperature and for cooking meat around 300℃. Brick ovens are usually made of high-quality insulating materials that help in retaining the heat for a long time. This retained heat helps cooking your desserts, bake bread long after the main dish has been cooked.
Can A Brick Pizza Oven Cook Anything Else?
Brick ovens are just like your regular ovens that are just bigger, more aesthetic, and way cooler. You can cook almost everything you like with these ovens provided you have the required knowledge and materials. With the right experience of operating a brick oven, cooking, baking, and roasting is completely a different adventure on its own that you can't find in any gas or electric-powered ovens. The food you can prepare with the wood fire pizza ovens are:-
Roasted vegetables
Baked or grilled fish
Slow-cooked meats
Flamed ribeye steak
Smoked and barbecued meats
Jacket potatoes
Freshly baked bread loaves
Focaccia and flatbreads
Dishes such as shrimps, potato wedges, baked feta, and many more
Stews and casseroles
Hot desserts
Accessories And Maintenance Of A Brick Oven
You don't require a lot of accessories to get the best cooking experience from your brick oven. A glove to protect against burns and fire. A long-handled spatula (pizza peel) for sliding the pizzas in and out of the pizza dome. That's all
These ovens even do not require high maintenance, all you need is a long brush for cleaning up the accidental spills and a damp cloth for cleaning the wood ash for laying the pizza base on the oven's cooking floor.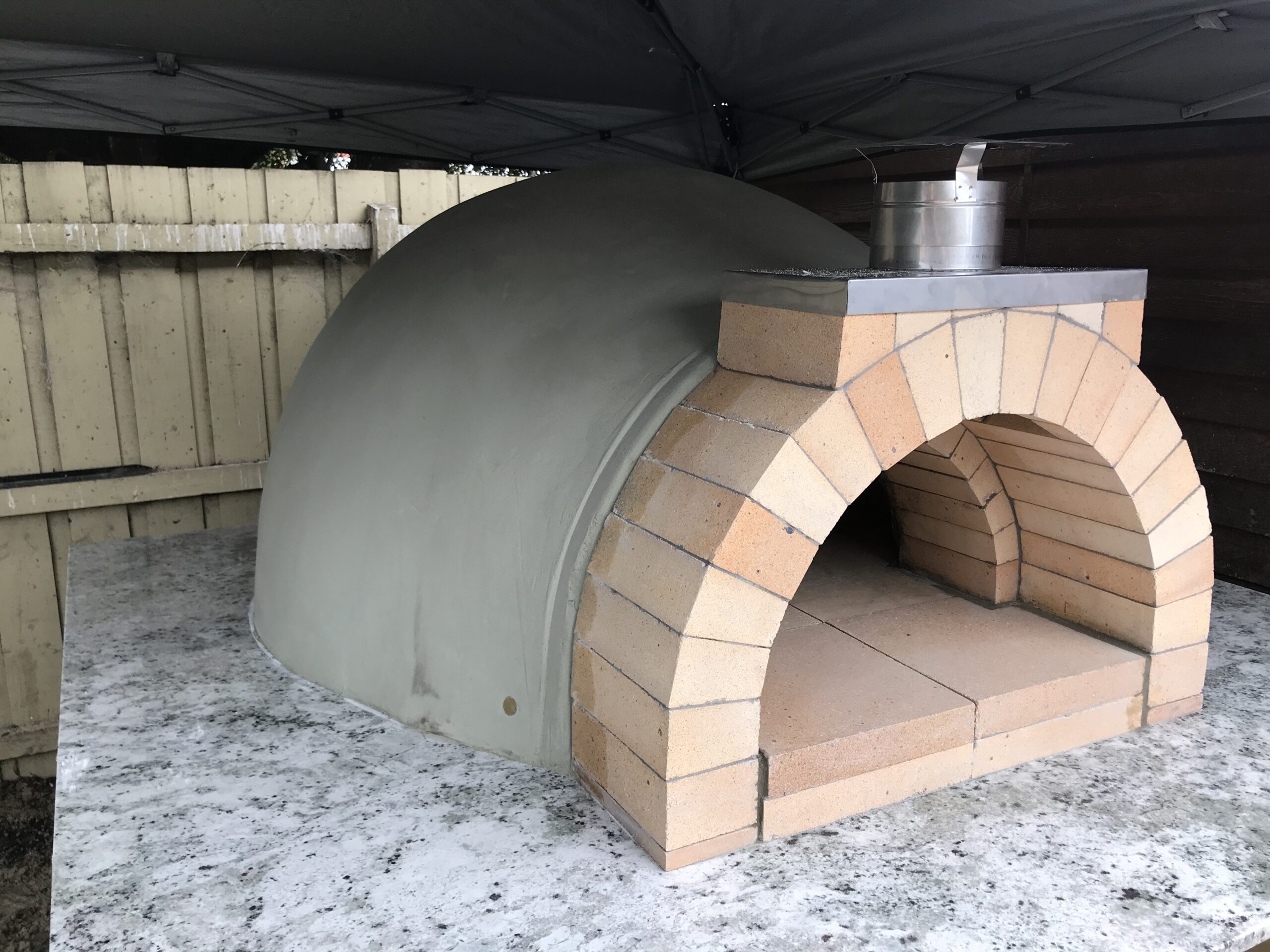 Convenience is all we were always looking forward to achieving. Not every one of us has the time, energy, and expertise. When it comes to outdoor ovens, luckily, you don't have to bring in a fleet of oven specialist from Italy anymore. A DIY pizza oven is a seamless way for you to save time, effort and at the same time, you are lucky enough to build a pizza oven that you always wanted.
There are endless types of DIY kits available nowadays in the market of various shapes, sizes, and colours. However choosing the suitable pizza oven becomes crucial as the oven is going to last for years, provide countless hours of entertainment, meals, and add value to your home(monetary value as well). The best wood-fired ovens will increase the aesthetics of the surroundings and cook all your favourite meals easily, quickly, and with utmost safety.
Choosing the perfect DIY pizza oven kits basically depends on your overall needs and requirements. But we have made this part easy for you, there is one such DIY kit that can definitely catch all the attention and are of great value too. The Calabrese 800 Neo Precast DIY wood-fired pizza oven kit, this DIY kit is an all-in-one package considering its aesthetics, versatility, and features. The DIY oven kit is a perfect choice for everyone looking for cooking perfect pizzas every time with the nostalgic and smoky flavours. So let's get started on building your wood-fired pizza oven.
What's Inside The Calabrese 800 Neo Precast DIY Wood-fired Pizza Oven Kit?
 50mm pre-cut cooking floor tiles
 25mm calcium silicate hard underfloor insulation
Insulation blanket 50mm (ceramic fibre blanket)
CNC pre-cut front arch template
Front flue arch fire bricks (pre-cut)
Mortar tub
450 x 150mm stainless steel flue with a rain hat(for extra protection against the rain)
Black steel door with temperature probe
Detailed instructions
Other Important Tools You Need
Aluminium foils
Tape measure
Plenty of water
Boots
1x bag builders clay
Grande – 12 x bags 20kg premixed sand cement
Old kitchen knife
Chicken wire
Step By Step Guide for Building a Calabrese 800 Neo Precast
The ultimate guide on the best base for a pizza oven
When creating the foundation, it is essential to find the best location for your oven first. When choosing a place, you need to look for a site with enough ventilation, a common wind direction, and chimney access.
Once you have located a suitable place for your outdoor oven, it is essential to select an area with a strong foundation. Remember that a pizza oven has half a ton of weight. This makes it significant to look for a solid base for the foundation. An oven built on a weak foundation will possibly crack and move over time, it's vital to build an oven from the ground up, taking what's underneath the oven into account.
The dimensions of the oven foundation will also depend on various elements such as your chosen pre-cast size, desired working area, finish style, shape, size, and depth of the brick oven.  After selecting the best location, you can now start laying the foundation.
Your foundation can be built from a range of materials such as concrete with Rio bar installed or railway sleepers, even house bricks, but be aware, if your foundation moves or deteriorates then your brick oven may crack and you may have to be build again. If you happen to use wood or any other materials, make sure it can withstand the weight of the wood-fired oven.
When construction of the base is taking place, if using bricks, be sure to use quality bricks, bricks with cavities will not be suitable for the base. This might be common sense to some, but ensure your pizza oven base and foundation are level, using a spirit level make sure these levels are checked, especially if using concrete.
Setting up the flue plays a very significant role in the successful building of a wood-fired pizza oven. You have to make sure that everything is in its proper place. Poor construction could lead to a high amount of heat loss, which is something that you don't want to happen.  If you are unsure, it is best to consult professionals who can properly install it.
Weatherproofing and Oven Insulation
Insulation is one of the most vital steps of a successful oven building. The main goal of insulating ovens is to minimize heat loss and maintain a high temperature for a longer period. Insulation sheets and blankets are a great way of trapping the heat effectively. Proper insulation is very crucial as it can make or break a good pizza oven. Without proper insulation, you will also experience very hot dome exteriors which are dangerous and is a safety hazard if you are not cautious or have children around you.
The Calabrese 800 Neo Precast DIY pizza oven kit comes with insulating blankets in the box, so all you have to do is wrap the blanket around your dome and secure it tightly. These high-quality blankets help in retaining the heat for a longer time. If you want to further increase the insulating capabilities of your oven you can cover the insulating blankets with aluminium foils. Aluminium foils are a great way to build a good heat-retaining oven as they help in retaining the heat as well as weatherproofing by saving the interior of the oven from external moisture.
The next step for safeguarding against moisture and external materials is rendering and curing. It plays a vital role in making sure that insulation materials such as aluminium foil and ceramic blanket are protected from elements that could harm them over time.
Rendering is an important process of protecting insulating materials from damage and exterior moisture. Before starting the process clamp-on chicken wire to ease the rendering process as applying the mortar fix can be a bit tricky on the ceramic blankets. Apply at least two layers of the mortar-fix that you want for quality baking and cooking. Curing is also an important process as it protects your brick oven from cracking, thus extending its life.  Also, you should not rush or miss this step as it can affect airflow significantly.
To understand more about building from DIY pizza oven kits, it is best to watch this video.
Hire Wood-Fired Oven Installation and Repair Experts
Even though DIY pizza oven tips and techniques are available online in various mediums or platforms, building one isn't an easy task. You have to make sure that everything is done the right way and in the correct sequence for things to work out correctly.
Experienced Professionals
Though complete instructions are usually given for building the pizza oven kits, It can get quite overwhelming for one who doesn't have the experience and knowledge of installing a DIY outdoor oven kit. Experienced installers are your best bets as they know what needs to be done from the planning to till the construction is over. With our combined experience and skills, we are sure that we have the proficiency in installing or even repairing a brick oven.
Right Tools and Equipment
Building a brick pizza oven seems to be an easy task, but everything could go wrong too, especially if you don't have the best tools. With the help of these experts, you are guaranteed that a wood-fired oven is in safe hands.  These pros will handle everything that you need from planning till the construction of your DIY pizza oven is completed.
Learning the ropes of installing or repairing a wood fire pizza oven isn't done overnight. These pros have spent their time and energy just to get the right knowledge and develop skills to become an expert in pizza ovens. If you are a newbie, you are going to waste a lot of time and energy if you don't have prior knowledge of using DIY kits. Our experts have experience and proper training to get the job done easily and of high quality every time.
One of the perks of hiring an expert for pizza oven installation or repair is that you get the liberty to save time. If you are a busy person, installing or fixing a brick oven is definitely the last thing you'll want to do. The best solution is hiring proficient individuals for building up your outdoor DIY wood or gas pizza ovens. Just trust the experts and wait for your outdoor pizza oven to start baking and cooking your favourite meals.
In conclusion, hiring experts is the best thing to do if you want to save time and energy.  Installing a brick oven is no joke. You need to have the best tools, expertise and have a helping hand to make sure that you have an astonishing pizza oven that you always desired for.
Did you just buy a new pizza DIY oven kit and are not confident enough to build it yourself? The good news is, we are the ones you can completely rely upon! We have experienced and skilled professionals who will be there to build your wood or gas ovens.  Visit our website here or call us on 0437 957 774.  We're always happy to help!